Scarless Thyroid Surgery – Endoscopic Thyroidectomy
What is Thyroid?
Thyroid is an important gland in our body and it is very essential that the function of the thyroid remains normal. The hormones produced by thyroid regulates many of the body's processes and the functioning of many of the organs of the body. Thyroxine has a role in the heart rate, metabolism, memory, digestion, etc.
Thyroid Gland Anatomy
Anterior Posterior View showing the thyroid gland, trachea, superior thyroid artery, external laryngeal nerve, vagus nerve, recurrent laryngeal nerve, inferior thyroid artery
When are some common Thyroid issues and when is Thyroid Surgery required?
Not all issues of the thyroid require thyroid surgery. Some common Thyroid conditions are:
Hypothyroidism
Hypothyroidism is a very common condition where the thyroid doesn't create and release enough thyroid hormone into the blood stream. Hypothyroidism is found in almost 20% of people. Hypothyroidism can be treated with small dose of Thyroxine. With medication, the symptoms of hypothyroidism can be fully resolved. It can be taken even in pregnancy or while breast-feeding. It is also important to re-test the thyroid values every three months.
Thyrotoxicosis (Hyperthyroidism)
In this condition, production of thyroid hormone is in excess. The common symptoms are excessive sweating, tremors, weight loss. Bulging of the eye if treatment is delayed can also occur.
Treatment of thyrotoxicosis can be done by anti-thyroid agents like Neo-Mercazole and Propranolol. Long-term use of Neo-Mercazole is not advisable as it affects the bone marrow. Because of its side effects, blood count is also checked along with thyroid function every three weeks. If the blood count gets affected, it may be necessary to reduce the dosage of the medication or even stop the medicine. Thyroid Surgery may be needed in these cases.
Secondary Thyrotoxicosis
Some people are affected by secondary thyrotoxicosis. That is along with a change in thyroid function, they would get thyroid nodules. In such a situation, it is necessary to remove the thyroid gland.
Goiter / Thyroid nodule
If the patient suffers from goiter, it is important to get it checked by a surgeon. A thyroid has two lobes. In the middle, there is the isthmus, which connects both lobes. The doctor examines to see where the swelling is, on all sides or only on one side, how big the swelling is, whether the goiter chokes the air tube, etc., recommends ultrasound scan of the neck to verify the findings.
What is thyroidectomy?
Thyroidectomy is a surgical procedure performed to remove all or part of the thyroid gland. It is performed to treat thyroid disorders and is recommended for conditions such as thyroid cancer, large goiter (enlargement of the thyroid), hyperthyroidism or overactive thyroid.
Thyroidectomy can be either:
Partial thyroidectomy or hemithyroidectomy where a portion of the thyroid is removed; If the goiter is on one side and there is no suspicion of cancer, hemithyroidectomy is performed.
Total thyroidectomy where the entire thyroid is removed. If there is goiter on both sides (multi-nodular goiter), or if suspicion for cancer is there, total thyroidectomy is performed.
Three ways of performing Thyroidectomy
Open Thyroidectomy
Endoscopic Thyroidectomy (Scarless Thyroid Surgery)
Robotic Thyroidectomy (Scarless Thyroid Surgery)
Open Thyroidectomy
Traditional methods of open thyroidectomy involve a transverse incision across the lower part of the neck measuring 7-10 cm in length. This leaves behind a scar line on the neck. Women usually find this scar cosmetically unacceptable and unappealing.
Open Thyroidectomy – Transverse incision on Neck
Endoscopic Thyroid Surgery
Endoscopic thyroid surgery or endoscopic thyroidectomy is a surgical technique allowing the surgeon to perform thyroid surgery through small skin incisions. It is also called Minimally Invasive Video-Assisted Thyroidectomy. Minimal access approaches are attempted in neck surgery as they avoid scar to the neck. Here we perform endoscopic thyroidectomy through very small incisions made at the axilla. A video camera is inserted that provides a magnified view of the internal structures. This aids in comfortable dissection of the thyroid as the surgeon can view the internal structures magnified on a computer monitor. This adds the benefit of safety and precision.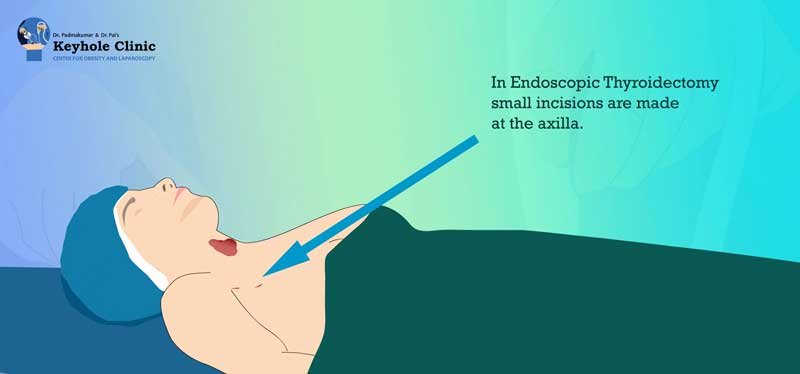 Endoscopic Thyroid Surgery – Small Incisions made at the axilla
Watch a Video Review
Watch Animation
Advantages of Endoscopic Thyroidectomy
The greatest benefit of endoscopic thyroidectomy is that the neck remains free of scar as the thyroidectomy is performed endoscopically via incisions made at the axilla. The smallest of scars produced are hidden beneath the inner clothes at the axilla. This is a great cosmetic advantage.
No scar on the neck
Only 2 days needed for recovery
Minimally Invasive Surgery (Keyhole incision at the axilla)
Better visualization of nerves and parathyroids, so less problems after surgery
Better visualization of Recurrent Laryngeal Nerve
on Endoscopic Thyroidectomy through magnified vision by camera
Video Testimonials
Google Reviews
Endoscopic Assisted Robotic Thyroidectomy
Robotic Thyroidectomy – Performed by Dr. R. Padmakumar and Team
TIRADS Scoring System (Thyroid Imaging Reporting and Data Systems)
This is a 5-point classification to determine the risk of cancer in thyroid nodules based on ultrasound. A TIRAD score of 1 would be fine, but a score 2 and above would indicate a problem. If the size of the thyroid nodule is greater than 4 cm it would indicate a problem.
Fine-Needle Aspiration Cytology – FNAC
Fine needle aspiration is a biopsy procedure and it helps make a diagnosis or rule out conditions such as cancer. In fine needle aspiration, a thin needle will be inserted and small tissue samples taken and examined under microscope. This method also uses a scoring method, Bethesda, and a score of 1 and 2 would be benign, but 3 and 4 could be indicative of a tumor.
Abnormalities of the Thyroid are common in women. For nodules larger than 4 cm even if the USG and FNAC suggest benign swelling, thyroidectomy is recommended. Depending on the patient history, physical examination as well as the USG and FNAC findings, the surgeon may decide to offer a hemithyroidectomy or total thyroidectomy in consultation with the patient.
Keyhole Clinic – Center for Thyroid Surgery in Kerala
Keyhole Clinic is the Best Thyroid Surgery Outpatient Consultation Center in Kochi, Kerala. We have well experienced surgeons specialized in open thyroidectomy, endoscopic thyroidectomy, and robotic thyroidectomy.
Dr. R. Padmakumar, Head of Department of Minimally Invasive Surgery at VPS Lakeshore Hospital, Kochi, is one of the few and best thyroid surgeons in India performing Endoscopic Thyroidectomy with world record of performing endoscopic removal of Branchial cyst from a child of 3 years (the youngest child reported). He also has performed endoscopic excision of thyroglossal cyst which was the first of its kind in Kerala. Dr. Padmakumar's expertise led him to be invited by the Government Hospital in Dubai for endoscopic thyroid surgeries, invited directly by the Dubai Health Authority.
The Team of Surgeons includes Dr. Madhukar Pai who is Senior Consultant General and Laparoscopic Surgeon, VPS Lakeshore Hospital.
The surgery is performed at VPS Lakeshore Hospital, which is the best hospital for thyroid surgery in Kerala as well as the best hospital for thyroid surgery in India, under the guidance of Dr. R. Padmakumar.
Thyroid Surgery Cost in India
The cost of thyroid surgery will depend on the type of procedure chosen, whether the patient has chosen to undergo open thyroidectomy or endoscopic thyroidectomy. Endoscopic Thyroidectomy cost will be higher than Open Thyroidectomy. Thyroid Surgery cost in Kerala would remain more or less the same as in other parts of India. For more details on the cost of thyroid surgery and other details call 9497461401.
Video Testimonials
Other Endoscopic Neck Surgeries
Endoscopic Parathyroid Surgery.
Endoscopic Neck dissection / Lymphadenectomy.
Endoscopic Thyroglossal Cyst Excision.
Endoscopic Salivary Gland Excision.
Endoscopic Neck Lipoma Excision.
Endoscopic excision of Branchial Cyst.
Read more on Other Endoscopic Neck Surgeries
---
Thyroid Clinic Doctors