Kidney Stones Treatment in Kerala
Kidney Stones Treatment in Kerala at Kochi – Kidney Stones treatment is decided based on the type of stone. Small stones can be treated by drinking water, medicines, and pain relievers. It is advisable to drink up to 3 liters of water per day to prevent kidney stones. Larger stones may need surgical treatment and different kidney stones treatment options include:
Retrograde Intrarenal Surgery (RIRS)
Extracorporeal Shock Wave Lithotripsy (ESWL)
Percutaneous Nephrolithotomy (PCNL) / Nephrolithotripsy
3D Laparoscopic Stone Removal
Thulium Laser Stone Surgery
Ureteroscopy
Different Surgeries performed for Kidney Stone Removal
What are Kidney Stones?
Kidney Stones are also known as renal calculi. They are solid masses which are made up of crystals. Our urine consists of many minerals, but when there is a high concentration of these minerals in the urine, they can gradually develop into stones. They can start small, but eventually can grow in size.
As long as the stones stay in the kidney, they do not cause problems. Very small stones can travel down the ureter and pass out while urination. But sometimes, the stones get lodged in the ureter blocking the flow of urine. This can cause pain.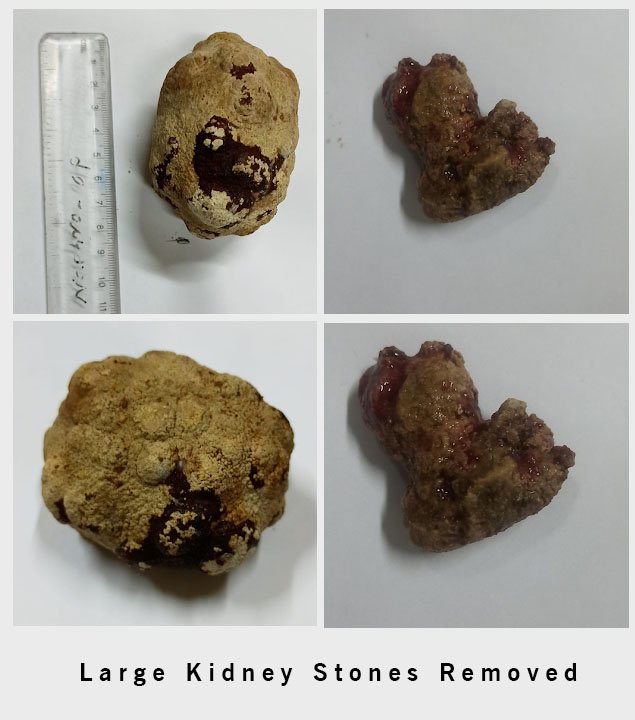 Retrograde Intrarenal Surgery (RIRS)
RIRS (Retrograde Intrarenal Surgery) is a procedure performed to remove kidney stones using laser and a fiberoptic endoscope without making any incisions on the kidney.  This is a minimally invasive procedure, as the procedure is performed without making any incisions.  RIRS can be performed for stone up to 4-5 cm, staging of procedure may be needed for big stones
Read More
Extracorporeal Shock Wave Lithotripsy (ESWL)
Extracorporeal shock wave lithotripsy (ESWL) is a common method used kidney stones treatment. This procedure is performed with a machine called lithotripter which generates a series of shock waves that helps in breaking the up stones present inside the urinary tract or kidneys. The shock waves break the stones into smaller pieces, which can either pass through the urinary tract and will exit with urine out of the body or it can be easier to extract.
Percutaneous Nephrolithotomy / Nephrolithotripsy
Percutaneous Nephrolithotomy / Nephrolithotripsy – These are kidney stones treatment procedures and is performed passing a special medical instrument through the skin into your kidney. Percutaneous means through the skin. A passageway is created on the skin on the back and carried to the kidney and using special instruments the stones are removed from the kidney.
These procedures are generally recommended used to treat large (more than 5-cm sized stones) or irregularly shaped kidney stones which can't pass on their own and which cannot be removed with lesser invasive procedures.  Percutaneous nephrolithotomy is also recommended in staghorn kidney stones, where the large kidney stones block more than one branch of the collecting system of the kidney.
3D Laparoscopic Stone Removal
3D Laparoscopy can be used for all major urological problems.  The advantage is "no open surgery".  With the advancement of technology and the availability of 3D Laparoscopic Imaging System, the results seen with kidney stones treatment is great. It is used for removing the large stones completely intent.
Thulium Kidney Stone Laser Treatment
Lasers today have become an effective way for kidney stones treatment by breaking the kidney stones into tiny pieces. A flexible scope that sends Laser is passed to view the stone and fragment it. Most of the urologists use a holmium laser.
According to studies, Thulium Fiber Laser has a promising role in the future of Laser Lithotripsy and is considered to have a significant potential for kidney stones treatment. The Thulium Fiber Laser can fragment the stones into tiny pieces that are 10 times smaller than those produced with a holmium laser, and these particles are easier to flush out of the kidney.
Ureteroscopy
Ureteroscopy (URS) uses a small-calibre endoscope, called a ureteroscope, for kidney stones treatment by removing kidney and ureteral stones. The ureteroscope is passed up through the urethra and bladder to the point where the stone is located. This procedure is performed under general anesthesia. Small stones are removed wholly from the ureter with a basket device, whereas larger stones are fragmented, usually with a laser, and the broken tiny pieces are removed.
Kidney Stenting
Kidney stenting allows passages of painful kidney stones through the ureters and out of the body.  These ureteral stents are thin, flexible tubes that hold the ureters open that allows for free flow of urine.  These stents may be required due to ureteral obstructions caused by kidney stones.
Diagnosis of Kidney Stones
Urine examination or Urinalysis: Urine is examined to test whether the urine has blood traces or whether there is too many minerals that can form kidney stones.
Ultrasound: Ultrasound can reveal the presence of urinary stones in the urinary tract.
Intravenous Pyelogram (IVP): Intravenous Pyelogram is an imaging test that helps the doctor to view the kidneys and the urinary tract and is helpful in diagnosing disorders of the urinary tract such as kidney stones.
NCCT-KUB: Non-Contrast Computerized Tomography of Kidney, Ureter and Bladder (NCCT-KUB) can be performed to detect obstructions such as urinary stones in the kidneys.
Kidney Stones Doctor at Keyhole Clinic
Dr. Datson George P. is a Kidney Stones Specialist in Kochi, Kerala, and is the best doctor for Kidney Stones Treatment in Kerala. He introduced RIRS, the latest in kidney stone surgery in Kerala, and has completed more than 1000 RIRS procedures. He is one of the more referred to doctors for advanced RIRS procedures in Kerala. Dr. Datson P George is a frequently invited faculty from Kerala to demonstrate RIRS laser kidney stone removal at various conferences in India. His name appears in India Today among the Top Doctors of South 2022 and among the Best Doctors of South 2022 in Outlook Magazine.